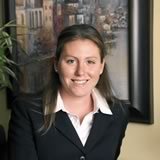 Suzanne Herold was admitted to the bar in 2009 and has dedicated her career to employment law ever since.  Suzie practices before the Superior and District Courts of the Commonwealth of Massachusetts, the Federal District Court for the District of Massachusetts, the Massachusetts Commission Against Discrimination and at the Massachusetts Department of Unemploymnet.
Suzie has been recognized as a SuperLawyer "Rising Star" in 2011 and 2012.  In 2013 Suzie was named a Top Woman Attorney in Massachusetts.
Suzie is a member of the Massachusetts Employment Lawyers Association, the Massachusetts Bar Association and the Boston Bar Association.
She is a graduate of Suffolk University Law School in Boston, Massachusetts and of Saint Michael's College in Colchester, Vermont.  In her spare time, Suzie enjoys golf, snowboarding, travel and is an avid Boston sports fan.